10 Things to Do in Houston!
The Super Bowl is quickly approaching and this year it is in my hometown, Houston, TX! If you don't know, Houston is the 4th more populous city in the USA, and over 145 languages are spoken in town. Houston is also home to the world's first domed stadium, the largest medical center in the world, and an underground tunnel system that runs for seven miles, linking 95 city blocks. Houston is an amazing city with so much to do, so I thought this week I'd write my blog on some of my favorite things to do in my hometown. If you're heading to the Super Bowl check some of them out. There's a lot more to Houston than just the parties and the big game!
1. Explore Space Center Houston
If you've ever wanted to visit NASA then you have to go to Space Center Houston! (And I'm not just saying this because I used to be a Tour Guide here during my high school years…) Space Center Houston is the official visitor center for NASA's Johnson Space Center.
The center includes a replica of Skylab, America's first space station, and a replica of the Space Shuttle Independence that you can walk through. You can also touch moon rocks, take an open-air tram tour of NASA, which includes a visit to the Old Mission Control, and, on Fridays, meet an astronaut. 
Don't forget to visit Rocket Park where you can see the Saturn V Rocket up close. It's over 36 stories tall! Space Center Houston is a great place to spend the day!
Address
: 1601 Nasa Pkwy, Houston, Texas
Ticket Price
: $29.95 for adults (At the time of this blog post)
2. Go Shopping!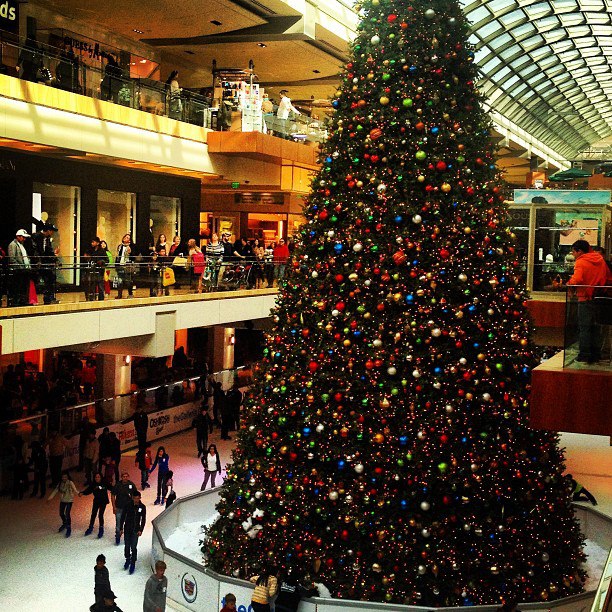 I know you are probably thinking, "Really Lindsay, a mall?" but the Galleria isn't just a mall, it's the BIGGEST mall in Texas and the 8th largest in the US. This mall is 3 million square feet, (2,400,000 square feet retail space), and has over 375 stores in it. The Galleria consists of stores at many price levels including upscale stores like Louis Vuitton and Tiffany's. It is currently anchored by Neiman's, Nordstrom, Saks and Macy's. The Galleria is also home to two hotels and a full ice-skating rink, which is so much fun during the holidays!
If you're more into vintage shopping, check out 19th Street in the Heights. The quirky area has all sorts of stores that sell unique items. It's a fun way to spend a few hours. And, of course, you can't leave Houston without buying a pair of cowboy boots so stop by a Cavender's Boot City to find the perfect pair. There are literally 100's to choose from!
3. Check out the Art Scene
 With 19 different museums in one beautiful area, it is no surprise the Museum District is one of Houston's top cultural attractions. The Museum of Natural Science, Children's Museum, Holocaust Museum and the nation's 6th largest art museum, The Museum of Fine Arts, plus many more, are all located here. Most of the museums in the district are within walking distance, and some are free of charge to visit, so make sure to check them out! The Houston Zoo is also located in this area if you want to stop by. The art scene in Houston isn't only in the museum district. You can also see other exhibits around town like, Rain by Madgalena Fernandez, at the Cistern in Buffalo Bayou. This show runs until June 4th, but advance reservations are required. Insider Tip- Make a reservation on a Thursday if you want to see Rain for free!
4. Enjoy Culinary Delights!
Did you know there are more than 10,000 restaurants, which represent over 70 countries and many regions of America in Houston? That being said, it's no surprise that my favorite reason to visit Houston is for the food. It's incredible! Here are some of my personal favorites.
For Steak
B&B Butchers
– If you are a meat lover you must go to B&B Butchers because this is one of the best steakhouses I have ever visited. B&B Butchers also has a butcher shop if you want to take some meat home. If the weather is nice, check out the rooftop patio, which has a nice view of Houston. (Address: 1814 Washington Ave, Houston, TX 77007)
Pappas Bros. Steakhouse
– Any of the Pappas chain of restaurants are good, and a staple in Houston, but make sure not to miss the steakhouse. The ambiance is nice, the food is great and the service is wonderful!
For Mexican
El Tiempo Cantina
– There are numerous locations in Houston for El Tiempo so there's no excuse to miss out on the Mexican food here. The green salsa is to die for and everything on the menu is delicious!
For Oysters
Gillhooley's
– Ok, before you make the drive, know that this is a total DIVE BAR but the seafood is SO good and SO cheap. Gillhooley's is in Dickinson, but I had to include it because I love spending the day by the water, having a few drinks and dining on oysters.  Try the Oysters Shrimphooley, and bring cash because they don't accept credit cards! (Address: 222 9th St. Dickinson, TX 77539)
For Italian
Frenchies
– This traditional Italian restaurant is an institution in Clear Lake. When you walk into Frenchies be prepared to see 100's of photos of celebrities and astronauts that have dined here. It isn't surprising they've had so many famous visitors, since the staff treats each guests like family, and the food is so wonderful you'll feel like you're dining in Italy! The pasta dishes are so good you'll want to cry…happy tears of course! (Address: 1041 E NASA Pkwy, Houston, TX 77058)
Da Vinci Ristorante Italiano- Da Vinci's is a very small restaurant in a strip mall in Katy, but in my opinion one of the best restaurants in the Houston area. (If you can't find it look for the Yellow Ferrari parked out front!) The food at Da Vinci's is so, so, good and they have a chalkboard menu with specials that change every day. The dishes are delightful and innovative so don't be scared to try something new, or try the chicken parm- it's to die for!
The staff, especially our favorite waiter, CJ, will make you feel right at home. Make sure you tell them if you are celebrating anything special because the complimentary sparkler dessert will put anyone in the party mood! Tip- Reservations are a must! (Address: 6455 South Fry Road, Suite 100, Katy, TX 77494)
And drink for Charity!
 OKRA Charity Saloon
There are hundreds of fabulous bars in Houston, but one you shouldn't miss is OKRA Charity Saloon. Every time you order a drink at OKRA, they allow you to vote for 1 of 4 local charities. At the end of the month, the charity with the most votes gets the proceeds from the next month. So far OKRA has donated $838,757.41. Pretty rad huh? (Address: 924 Congress, Houston, TX 77002)
5. Dance at a Honky Tonk
There are tons of country bars in Houston and visiting one is a fun addition for your trip. Don't worry if you can't line dance or two-step, the crowds are friendly and there's always a nice Cowboy, or Cowgirl, willing to take you for a spin on the dance floor.
Three of my favorite Honky Tonks in Houston are below.
Mo' Place-21940 Kingsland Blvd, Katy, TX 77450 (Awesome place for live music!)
Big Texas-803 NASA Road 1, Webster, TX 77598 (Cheap Drinks! Starting at $1.50 on Wednesdays!)
Firehouse Saloon-5930 Southwest Fwy, Houston, TX 77057 (Great concerts with top artists!)
 6. Relax by the water at the Kemah Boardwalk
If it's a nice day outside, the Kemah Boardwalk is a wonderful place to spend the day with family. The boardwalk is built along Galveston Bay and is a 60-acre theme park in Kemah, Texas.
The boardwalk has a hotel, stores, carnival games, rides, such as a Ferris wheel and wooden roller coaster, and many different dining options. There is also a marina and a charter yacht for special events. Kids love it!!!
7. Burn Calories at Buffalo Bayou
Buffalo Bayou Park is a 160-acre park that runs through the city of Houston. The Buffalo Bayou runs through the park, hence its name. This park is beautiful and offers tons of biking/walking trails, a dog park, areas to relax with a pretty view of the Houston skyline, and guided kayak tours down the Bayou. The park is also home to a huge colony of bats…if you're into that sort of thing. To see the bats go to Waugh Bridge at sunset and you'll see around 250,000 fly out from under the bridge! I personally like my bats where they belong, in Vampire movies starring cute guys.
8. Catch a Cult Classic at River Oaks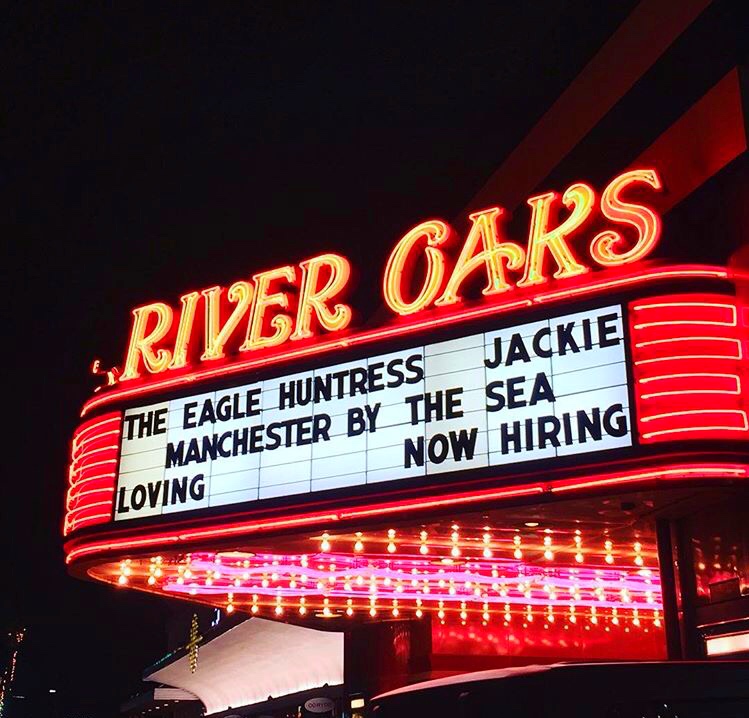 The River Oaks Theatre, built in 1939, is a historic theatre in the River Oaks Shopping Center. Known for showing cult classics, and what Hollywood types like myself would call, "award films," I have loved this theatre my entire life. If you're in the mood to catch a documentary, or Indie film that you can't find anywhere else in Houston, this is the place to find it. The theatre also does sing-a-longs of "The Rocky Horror Picture Show," at midnight on the second Saturday of the month. Get tickets in advance because they will sell out!
And two other things to come back for!
9. The Miller Outdoor Theatre
The Miller Outdoor Theatre, located in Hermann Park, is the only free open-air theatre of its kind in the US. The theatre offers free professional entertainment, like concerts, ballets, films, plays, and even operas to the public for 8 months on the year. Make sure you pack a picnic with your favorite drinks because the theatre is BYOB. No glass bottles are allowed so if you want wine you'll have to get creative. (Address: 6000 Hermann Park Drive, Houston, TX 77030)
10. The Houston Rodeo!
Houston's biggest event each year is the Houston Livestock Show and Rodeo, (HLSR), so you have to come back in March to attend. HLSR is the world's largest livestock show and one of the richest regular-season rodeo events. The show lasts 19 nights and is so much fun for the whole family.
 Not only is there a rodeo, but there's also a full carnival with rides, tons of food stands and concerts with the top names in country music each night. Buy tickets in advance if you want to go, because it sells out almost every year. Speaking of that, I need to get my Chris Stapleton tickets… 😉
 That moment the Texans clinched a playoff spot…
We're headed to Houston for the big game so say hi if you see us! I hope some of these ideas make it on to your list for your Super Bowl weekend in Houston! And, if you aren't going to the game, consider visiting Houston at some point. It is such a fun city!
XOXO,
Lindsay & Christopher