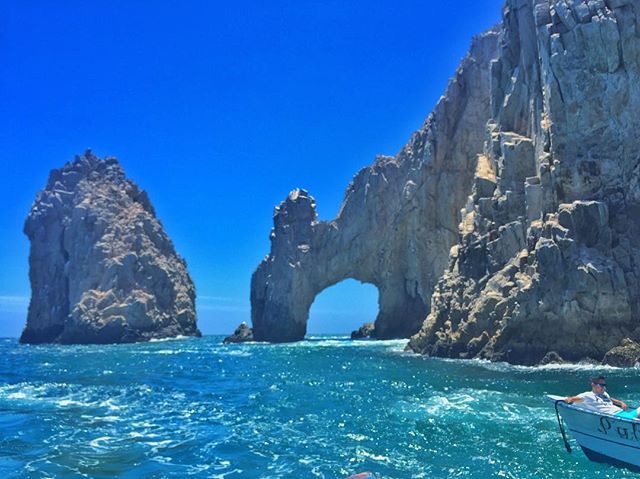 A Bachelorette Party in Cabo!
Planning a Bachelorette party can be hard! You want the best for the bride, but also want to make sure the entire group of women attending the party have fun, which lets face it, can be difficult when you mix a lot of different personalities. With the rise of international destinations being chosen for Bachelorette parties, there is even more pressure to make them great! For my best friend, Sarah's, Bachelorette party we decided to head to Cabo San Lucas, Mexico! It was the perfect place for her party because it's only a 2 1/2 hour plane ride from Los Angeles and it was relatively cheap! Today's blog post will talk about the "Do's and Don'ts" of planning the perfect weekend in Cabo!
 The Girls at Los Cabos International Airport
DO: When you land in Cabo make sure you have a car service set-up to take you to your hotel. Most hotels in Cabo have a shuttle, or service, they can recommend for you. It's much easier and safer to ride with a driver from a trusted company! 
DON'T: Forget your passport! I am amazed by how many Americans don't seem to think you need a passport to go to Mexico! You do! Also, be prepared for customs in Mexico as they use the red light/ green light system. Basically, you hit a button and if you get a green light you are clear to go, if you get a red light they go through your bags. Pack lightly just in case you get the red light! (I seem to always get the red light…)
 The Gift Bags for Sarah's Bachelorette Party! 
DO: Make gift bags for the girls that are attending the party! Make sure to include sunscreen and Advil just in case you have a few too many cocktails. Shirts, hats and fake tattoos are always really fun to add as well. Etsy is a great source of inspiration for the bags!
DON'T: Make bags and then ask the girls attending the party to pay for them. Normally, the Maid of Honor and Bridal Party should pay for the bags. If you put them together expect that you will not be reimbursed.
 Marina Cabo San Lucas- The View from Breathless Resort at Sunset
DO: Stay near the nightlife in Cabo! This is a Bachelorette party so you know the bride will want to go out on the town. There are many nice places you can stay in the downtown area. We stayed at Breathless Resort Cabo. It was walking distance to the bars town and really nice! 
DON'T: Skimp on accommodations. Book a nice hotel, with a great pool, and wonderful service! The Bride deserves to be pampered! 
DO: 
Stay in an all-inclusive resort. I usually don't recommend all-inclusive resorts but on a Bachelorette party weekend they make life easy! It's easy to split the bill at the end, and it's wonderful to be able to get any kind of food you want at anytime. Hello, pizza and nachos at 2am…
DON'T: 
Only eat at your resort!!! The food in all inclusive resorts may be free but it's never as great as some of the local restaurants in town. Make sure to go out to dinner at least once. There are a ton of wonderful restaurants in Cabo including, Los Tres Gallos, which serves some of the most amazing Mexican food I have ever had! 
The Girls at Los Tres Gallos
 DO: Go to The Office. There is a reason that every single person will recommend you try this restaurant when you're in Cabo. The food is delicious, the drinks are amazing, and the view is fantastic!!! Not to mention the vibe of this restaurant is REALLY fun and great for a Bachelorette!
DON'T:
 Try to split the bill by 15 people. Grab some pesos or Venmo. Hello, it's 2016!
DO: 
Take a boat ride to see Cabo's most famous site- El Arco! El Arco is a rock formation that emerges from the sea at the tip of the Baja Peninsula.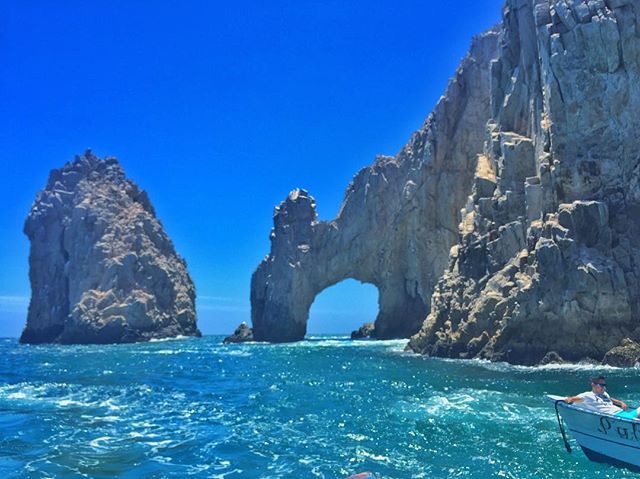 DON'T: Overpay for a boat tour of El Arco. From the office you can walk to the beach and you will see many people with boats. Here, you can pay about $5USD/person to get a boat ride out to El Arco. On the way have your cameras ready to see seals, birds and tons of marine life. There is also a good snorkeling spot on the way. Just tell the driver of your boat if you would like to go! 
DO: 
Get off the boat and explore lovers beach! Lovers beach is near El Arco and your boat can drop you off here for a few hours. It is extremely beautiful but know that there are no bathrooms on this beach and the only way to get here is by boat! (Unless you're an experienced rock climber, but I wouldn't try!) Five minutes away from Lovers Beach you'll find Divorce Beach, which is less crowded and worth visiting as well. 
DON'T: 
Try to swim at Divorce Beach. The waves at Divorce Beach are quite strong and so are the currents. It's way too dangerous to go swimming! 
DO: 
Make time to relax by the pool! Not every second of a Bachelorette party needs to be planned and trust me you will want some time to recover from your crazy nights out! 
DON'T: Forget sunscreen! The sun is strong in Cabo and looking like a lobster isn't cute. 
Drinks at Breathless Resort
DO: 
Take the bride to at least one crazy beach bar!
 Mango Deck, Cabo San Lucas
DON'T: Force the bride to play any silly games on the stage. These parties can get pretty crazy and while it's fun to watch others play them you don't want to force your friend too! Hello, internet! 
DO: 
Experience Cabo's famous nightlife scene. Downtown Cabo has tons of bars and clubs in close proximity to each other. Plan a bar crawl for the bride and don't forget party favors! Make sure to stop by Nowhere Bar, it was our favorite! 
DON'T: Get separated! Even though Cabo is one of Mexico's safest resort towns make sure your group all leaves together. Also, watch your purses because sometimes pickpockets are in the bars. 
DO: 
Stop for brunch at Flora Farms on your way to the airport. Flora Farms is an organic farm that serves farm to table food that is about 30 minutes away from the airport. The food is delicious and what better way to start your trip home than with a healthy meal?
DON'T: 
Be sad your trip is over! Also, don't plan to go straight to work! After a weekend in Cabo you are going to want a day to recover and relax. 
Have fun!
XOXO, 
Lindsay