3 Days in Copenhagen
Copenhagen, Denmark is the most visited city in Scandinavia and after spending some time here we understand why so many people love it! There is a lot to see in Copenhagen so on today's post we wanted to share our itinerary for three days in this wonderful city!
Nyhavn
Day 1: Embrace being a Tourist
For our first day in Copenhagen we decided to embrace being tourists and checkout some of the city's most famous landmarks via bike. Luckily for us, Copenhagen is a city made for cyclists so it is very easy to get around and you can rent bikes for about $15 USD/day. You'll actually see more bikes than cars in the city center and its pretty common to see men in suits commuting to work via bike.
Once you have your bike jump on and get ready to explore Copenhagen via 2 wheels. Our first stop was Copenhagen City Hall!
Construction of Copenhagen City Hall began in 1892 and was completed in 1905. The building is quite beautiful and since it is centrally located it is a wonderful place to start your bike tour. If you've ever watched the famous Danish show, "The Killing," you may recognize this building as it is regularly seen in the show. City Hall is one of the tallest buildings in Copenhagen and you can actually tour the tower Monday-Friday at 11am or 2pm, or, on Saturdays at 12:00pm. The tower provides amazing views of Copenhagen!
As you can see in my photo, it can be rainy in Copenhagen, so be prepared with a raincoat or umbrella. If you forgot one like I did, don't worry because you are only a 4-minute bike ride away from the Stroget. The Stroget is one of the longest pedestrian streets in Europe and one of Copenhagen's most famous streets. You'll need to walk your bike down this street or park it while you explore the many different shops and restaurants. We highly recommend trying some falafel if you are hungry! It's so delicious!
Christiansborg Palace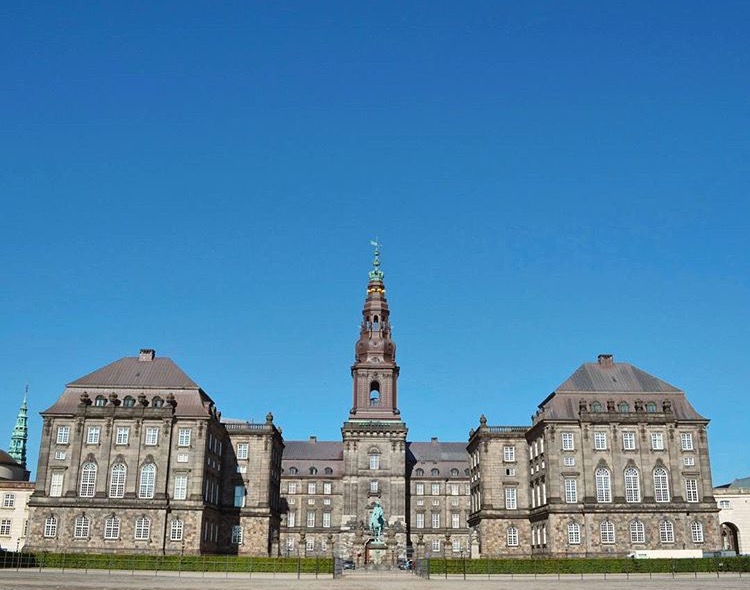 Once you are done exploring Stroget, you have about a 5-minute bike ride to Christiansborg Palace. Christiansborg Palace is the seat of the Danish Prime Minister's Office, Danish Parliament, and the Supreme Court of Denmark. The palace is unique because it is currently the only building in the world to house all three of a country's branches of government. There are guided tours of the palace that cost about $23USD and last about 50-minutes. The tour is well worth the money!
Torvehallerne
After touring Christianborg Palace hop on your bike for a quick ten-minute ride to Torvehallerne, a wonderful food market! Torvehallerne has over sixty different food stands that sell everything from gourmet chocolates, to meat, to exotic spices.
We ordered a lovely charcuterie board and some French rosé to take a break from our ride. If we lived in Copenhagen we would dine here frequently. There are so many options!
Frederik's Church
After exploring the market jump on your bike for a 20-minute ride to Frederick's Church. Frederik's Church, also known as Marmorkirken, (the Marble Church), is one of the most impressive churches in the city. The church has the largest dome in Scandinavia and is a popular place for locals to get married. The church is open to the public and the views of the city from the dome are quite magnificent. The dome is open daily at 1pm and 3pm during the summer months, and at the same time on weekends for the rest of the year.
Amalienborg Palace
Amalienborg Palace is right down the street from Frederick's Church and is the current home to the Danish Royal Family. Amalienborg is made up of four different buildings, Christian VII's Palace, Christian VIII's Palace, Frederick VIII's Palace and Christian IX's Palace. Currently, the palaces of Christian VII and Christian VIII are open to the public. The palace is famous for its Royal Guard and you can actually see the changing of the guard daily at noon. After exploring the palace its time to get cleaned up and ready for dinner in Nørrebro!
Night One in Copenhagen: Nørrebro
When planning our trip to Copenhagen a friend of mine told me that I should explore the city like a local, so we took his advice and decided to go to a spot where locals hang out on our first night in Copenhagen. Nørrebro has become one of the hippest parts of Copenhagen for young locals so it's no surprise you'll find many trendy restaurants and bars here.
The center of Nørrebro is called Sankt Hans Torv Square, which has many shops and restaurants including the world's only Thai Michelin restaurant, Kiin Kiin. Some of our other favorite restaurants in the area are Baest which has amazing pizza, Brus, a tapas restaurant with great cocktails and beer, and Mirabelle which is known for being an organic restaurant/bakery with delicious pasta. You can't go wrong eating at any of these places! After dinner explore the neighborhood. There are so many fun bars and cafes!
Day 2 in Copenhagen
On our second day in Copenhagen we got up early to beat the crowds at Nyhavn Harbor. Nyhavn is a 17th-century waterfront district famous for its dining and entertainment options. It's also a lovely place to spend a summer day and take a boat tour of Copenhagen.

There are many boat tours to choose from and we ended up booking a tour that lasted about 1 1/2 hours and cost $15USD/person.  On the tour we got to see the Opera House, Christiansborg Palace, Amalienborg Palace, the Black Diamond library, the famous Little Mermaid Statue and much, much, more! We loved seeing the Little Mermaid Statue because we were married in Solvang, a Danish town in California, with its very own Little Mermaid Statue. The one in Copenhagen is much smaller! Overall, the tour is a nice, relaxing way to see the city from a different perspective and I highly recommend it!
Note: If you're hungry and want to save some money on lunch grab a hotdog at one of the many stands around town. They are delicious!
Kronborg Castle
After our morning on the water, we walked to the train station so we could venture out to Kronborg castle. Kronborg is a 16th century castle in the town of Helsingør, Denmark and is most famous for being the setting of William Shakespeare's famous play, "Hamlet."
In "Hamlet" Shakespeare called Kronborg, Elsinore.  Kronborg is a 45-minute train ride from Copenhagen but it is very easy to find. Once at Copenhagen Central Station simply purchase a ticket for the DBS train to Helsingør from one of the machines. Once you get off in Helsingør walk out of the train station and to the right. You can't miss the castle! If you have any questions ask a local for help. Danes are quite friendly!
Once at Kronborg, you can purchase tickets for about $22USD to enter the castle. Guided tours are also available throughout the day. The castle is quite impressive and they allow you to go through many parts of the grounds including the ballroom, sleeping quarters, and the casemates. 
The casemates are underground and very dark so bring a flashlight! Soldiers used to hide in the casemates for weeks at a time when the castle was under attack. In the casemates you can also see the statue of Holger Danske, a national hero, who they say has been asleep under the castle for many years and will wake up the next time Denmark is threatened by enemies. I won't lie, it is pretty creepy in the casemates and I started to feel a bit claustrophobic.
If you need some fresh air after exploring the casemates climb the 199 steps to the top of the castle. It is a good workout and you won't want to miss this view!
If you need a coffee, or a snack after you tour the castle, check out Cafe Karisma in town! It's a lovely spot to hang out before you take the train back to Copenhagen.
Cafe Karisma
Night Two in Copenhagen: Kødbyen
Kødbyen is Copenhagen's meat packing district. It houses many restaurants and bars so it's no surprise it is one of the most popular places to go out in the city. Before you think Copenhagen's meatpacking district is like the one in NYC, think again. You won't find cobblestone streets and clubs with velvet ropes in Kødbyen, because these restaurants are actually in old butcher/meat shops. The inside of each shop has been completely transformed into trendy, unique spaces today though. Three of our favorite places in Kødbyen are below.
Paté Paté is the oldest restaurant in the meatpacking district that serves French, Spanish & Moroccan inspired food. It also has an incredible wine list that includes Santa Barbara wines because the owner loves the movie, "Sideways." Since we got married in Santa Barbara County it was like finding a piece of home. This is our favorite spot in Kødbyen!
Fiskebar Kodbyen is an industrial style restaurant that serves fresh, seafood dishes. The oysters are amazing!
Bakkan is a nightclub/ dive bar that has delicious burgers and fries! If you are looking for a low-key dive bar, this is the spot for you!
Day 3 in Copenhagen
After breakfast on our third day in Copenhagen we decided to explore the Freetown of Christiania, which is a self-proclaimed autonomous neighborhood that was founded by squatters and artists in 1971 as a social experiment. The squatters said that this part of the city was tax-free and would be governed by their own laws.
The town even has its own currency and flag! Currently, about 1,000 people live in Christiania and the town is green and car-free. Visitors are welcome to walk around Christiania and have drinks, or food, however, don't talk on your phone in this area as the residents get upset.
There is also a, "Green Light Area," where photos are not allowed because the town sells marijuana everywhere! If you are caught taking a photo you are at risk of getting your camera taken or even worse attacked in some reported cases. Note: Weed is NOT legal here even though it is in abundance. Overall, it was worth exploring Christiania because we can honestly say we had never seen anywhere else in the world quite like this hippie commune! I don't think we really fit in here though…
Carlsberg Brewery
After our morning in the hippie commune we decided we could use a drink so we went to checkout the Carlsberg Brewery for a tour! Carlsberg is easy to get to because they provide free bus service to the brewery from the Zoo, or "Visit Carlsberg," which is in the city center right by Tivoli.  Take advantage of the free transportation!
The admission price to enter Carlsberg Brewery is about $15USD for adults, which includes 2 beers or soft drinks, and a horse carriage ride. In addition to the admission price, you can add on a beer tasting for about $8USD that allows you to sample 3 different beers.
The brewery also offers guided tours for an additional $8. The grounds of Carlsberg are quite lovely and you get to visit the stables of their famous Jutland horses. Honestly, going in to this tour I wasn't very excited but it ended up being one of my favorite experiences in Copenhagen. (And I don't even really like beer!)
Night Three in Copenhagen: Tivoli
Since the bus from Carlsberg dropped us off right by Tivoli we figured we may as well experience the second oldest operating amusement park in the world. Tivoli was opened in 1843 and you can literally feel its old world charm. In addition to its oldest ride, the wooden roller coaster that was built in 1914, and still has a brakeman operator on board of every train, Tivoli also has rides for thrill-seekers, like Vertigo. During the summer, Tivoli has concerts every Friday night and it is worth visiting because the park looks beautiful after the sun sets. We probably would have spent the whole night in Tivoli if we hadn't heard from the locals about an amazing Jazz Festival in town.
Live like a Local: Copenhagen Jazz Festival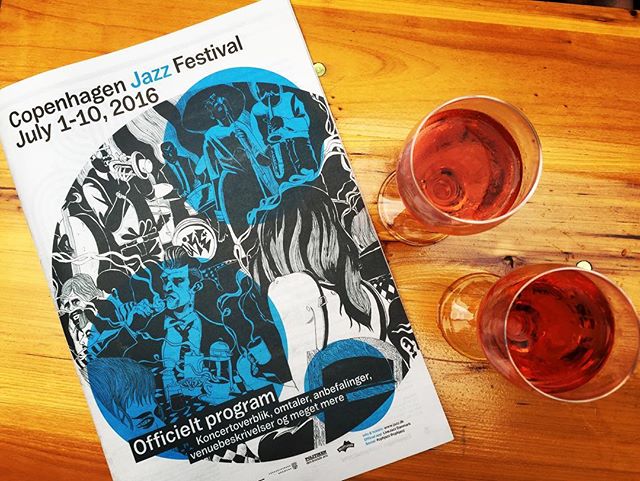 I know I have written this is many posts but I really believe asking the locals what is happening around town is a great way to explore a city. For instance, we happened to be in Copenhagen for their Jazz Festival, which is one of the largest jazz festivals in the world. For ten days, over 1,000 concerts were played in 100 different venues. Copenhagen was swinging with jazz notes throughout the city and we loved hopping around town and hearing live music… even in the rain!
We hope you'll give Copenhagen a chance the next time you are planning a trip!  It's such a fun city to explore.
XOXO,
Lindsay & Christopher