Have a "Sideways Moment" in California's Central Coast!
The air is cool, the vines are green and it's nearing the end of harvest season in California wine country, which means it's the perfect time of the year to visit the central coast's best vineyards! Today's post will cover some of my favorite vineyards in the Santa Ynez Valley including 6 of the vineyards from one of my favorite movies, "Sideways!"
FESS PARKER
Where:
 The Vineyard & Tasting Room is located on 6200 Foxen Canyon Road, Los Olivos, CA 93441 (Open daily from 10am-5pm.)
What?: 
You probably know Fess Parker from his portrayal of Davey Crockett in the 1950's but what you may not know is he was also a fabulous wine maker. In 1989, Fess Parker bought his vineyard and one of the region's most well known wineries was created. Fess Parker, passed away in 2010 and his family now runs the winery. It's a beautiful place and very dog friendly!
What should I drink? 
Fess Parker has a wide variety of wonderful wines but we like the Pinot Noirs the most!
Sideways Moment:
 Miles and Jack are at Fess Parker when Miles phones his agent and finds out his book isn't going to be published. After the bad news Miles asks for a full glass of wine but when the pourer refuses he drinks out of the spit bucket- gross!
FOXEN WINERY
Where: 
Tasting Room- 7600 Foxen Canyon Rd, Santa Maria, CA 93454  (Open daily 11am-4pm.)
               Vineyard- 7200 Foxen Canyon Rd. Santa Maria, CA 93454
What? Foxen Winery was founded in 1985 by sustainable wine growers Dick Doré and Bill Wathen. In 2009, the tasting room and winery became solar powered. (Pretty cool, right?) Another unique thing about this winery is the barn its tasting room is located in. The barn was originally a blacksmith shop that was built in the 1860's. 
What should I drink?
 Foxen is known for its great Pinot Noir, Chardonnay, and Chenin Blanc.
Sideways Moment:
 Foxen is the winery in Sideways where Miles and Jack help themselves to full glasses of wine when their pourer turns their back.
ANDREW MURRAY VINEYARDS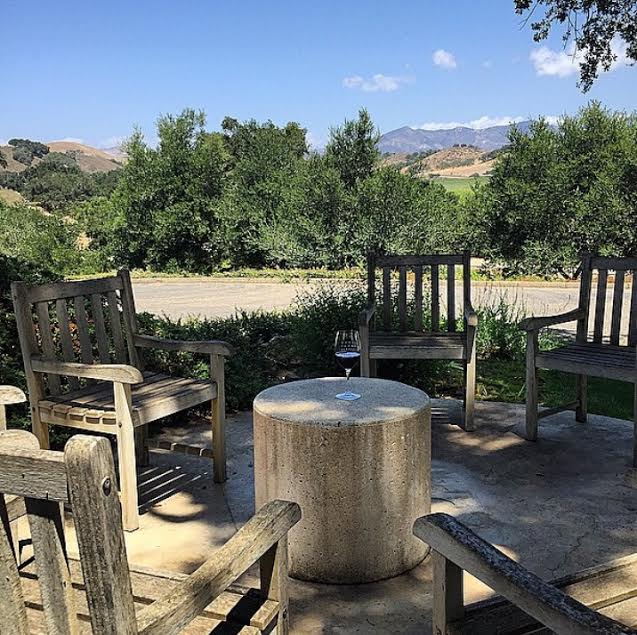 Where: 
The Vineyard- 5095 Zaca Station Road, Los Olivos, CA 93441 (Opened on weekends)
     The Tasting Room- 2901-A Grand Avenue Los Olivos, CA 93441 (Opened daily 11am-5pm)
What?:
 Andrew Murray Vineyards was established in 1990 when restaurateurs Jim and Fran Murray sold their businesses and retired to 200 acres of land in the Santa Ynez Valley. Since then, their son Andrew has run this vineyard.
What should I drink?:
Andrew Murray vineyards specializes in Rhône varieties Syrah, Grenache, Roussanne, Marsanne, and Grenache blanc. Our favorite one is the 2011 Syrah Tours Les Jours.
Sideways Moment: 
When Miles and Jack drive through wine country you see Andrew Murray Vineyards in the background.
ALMA ROSA WINERY & VINEYARDS
Where: 
Tasting Room- 7250 Santa Rosa Road Buellton, CA 93427 (Open daily 11am-4:30pm)
What?:
Alma Rosa is run by winegrowers Thekla and Richard Sanford who started this winery in 2005. The wine makers are committed to sustainable agricultural and business practices such as, green building and organic farming.
What should I drink?:
In the movie Miles & Jack try the Vin Gris so why not give that a taste? The Pinot Noirs are also quite lovely.
Sideways Moment: 
Alma Rosa is the tasting room where Miles teaches Jack the basics of wine tasting.
KALYRA WINERY
Where:
 343 N. Refugio Road Santa Ynez, CA 93460
What?:
Kalyra wine is created by Australian wine maker, Mike Brown, who has over 20 years of experience creating wine on multiple continents. It is said that Mike uses grapes from 2 different continents to create his wines so it's no surprise Kalyra's wine offer a unique taste. Aside from the wine, this vineyard offers sweeping views of wine country, which makes it the perfect place for a picnic. It is also very dog friendly and has a laid-back vibe so it's the perfect place to unwind!
What should I drink?:
 My personal favorite is their dry Rosé!
Sideways Moment:
 Kalyra Winery is where Miles and Jack meet Stephanie, the flirtatious wine pourer who Jack becomes quite taken by!
FIRESTONE WINERY
Where: 
5017 Zaca Station Rd. Los Olivos, CA 93441 (Open daily 10am-5pm)
What?:
 The Firestone Winery was founded in 1972 by the Firestone family and was Santa Barbara County's first estate winery. The vineyard is absolutely beautiful and is a great place to do a tasting and then have a picnic. Firestone also offers tours of the vineyards daily that educate guest on how their wines are made.
What should I drink?:
 We are a big fan of the Firestone Vineyard and love many of their wines. You can't go wrong with their Pinot Noirs, Cab Savs and in the summer their Rosé!
Sideways Moment:
 During the wine lecture Miles, Jack, Stephanie and Maya sneak out and go for a romantic walk through the Barrel Room.
PLUS 2 I LOVE….even though they aren't in "Sideways!"
ZACA MESA
Where: 
6905 Foxen Canyon Rd, Los Olivos, CA 93441
What?:
Zaca Mesa is one of my favorite wineries not just for the wine but for the people that work in the tasting room. Everyone is so friendly, they love dogs, and they have a wonderful outdoor area for lunch. The vineyard also has a large outdoor chessboard, which is a fun way to spend the day as you enjoy your glass, or glasses, of Vino!
What should I drink? : I love the white wines at Zaca Mesa! They are my favorite in the valley. Make sure to try the Z Blanc and Roussanne! 
LINCOURT VINEYARDS
Where: 
1711 Alamo Pintado Rd, Solvang, CA 93463
What?
 I'm a bit biased because we got married here but this is my favorite vineyard in the Santa Ynez Valley. The view of the vines is stunning, the wines are amazing and the people that work here are absolutely delightful! Lincourt has many events throughout the year but the vineyard itself is worth visiting on it's own. It is also dog friendly so a great place to take your pooch!
What should I drink?:
I love all of Lincourt's wines! (Even the Chardonnay's, which I typically hate!) Some of my favorite wines here are Lindsay's Pinot Noir, Annie Dyer's Pinot Noir and Courtney's Chardonnay.
Enjoy wine country!!! (And make sure to rewatch "Sideways" first!)
Have fun in Wine Country!
XOXO, 
Lindsay, Christopher & Remi