My Favorite Things to do in Barcelona!
It is no surprise Barcelona, the capitol of Catalonia, is one of the most romantic cities in the world! With its rich culture, history, unique architecture and delicious food, Barcelona is a must visit at some point during your life. Seriously, it is right up there with Paris and Rome! While you could spend a year in Barcelona and still not see everything, today's post is going to talk about some of our favorite things to do in this beautiful city. Here we go!
Visit Sagrada Familia Church
You can't go to Barcelona without visiting the city's most famous unfinished work, Sagrada Família. Construction of Sagrada Família, a large Roman Catholic Church, began in 1882. The original architect, Francisco de Paula Villar, wanted to create a simple church.
In 1884, after many arguments between the church and Villar, Antonio Gaudí took over the project and changed all of the current plans. Guadi' ended up spending the next 40 years working solely on this church. Tragically, in 1926, Gaudí was run over by a tram and died from his injuries, which left this project unfinished. To this day work is still being done on Sagrada Família.
Construction is expected to be complete in 2026. Even though this church is still "under construction," it is extremely beautiful so make sure to visit. Warning: the lines for tickets can be 2 hours long, so buy them in advance. Also, make sure to purchase a ticket for the tower because the views of Barcelona are incredible!
Walk The Gothic Quarter (Barri Gòtic)
The neighborhood known as the Gothic Quarter in Barcelona gets its name because it used to be the Roman Village in the city and still has some of the remnants from that time. Built primarily during the 19th and 20th centuries, the Gothic Quarter has a unique feel today because you can see old buildings right next to modern buildings.
While the Gothic Quarter is a pretty place for an afternoon stroll, there is also a lot to see in this part of Barcelona. Some of my favorite sights are the Barcelona Cathedral, the Picasso Museum and Plaça Reial, which is a charming square.
Outside of the attractions, my favorite thing to do in the Gothic Quarter is to get lost in the interesting little streets and alleyways. There are some great shops and tons of restaurants. My favorite restaurant is Tapeo if you're looking for a tapas spot! (Seriously, it's amazing! Check it out!)
After you explore the Gothic Quarter walk Las Ramblas, which is the city's most famous street. Las Ramblas also has many shops and adorable outdoor restaurants. We loved sharing Spanish wine and people watching along this busy street. Watch out for pickpockets though. Our hotel said they tend to hang out on Las Ramblas, although we didn't have a problem.
Walk under the Arc de Triomf and then have a picnic at Parc de la Ciutadella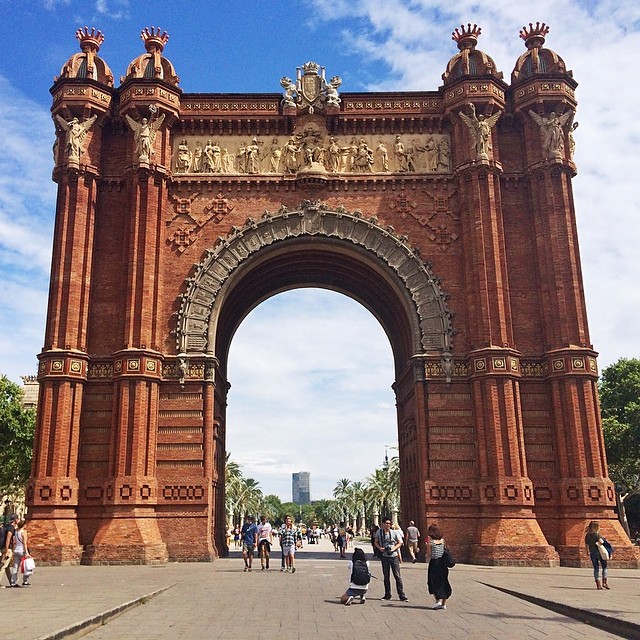 In 1888 Barcelona hosted the World Fair, and the Arc de Triomf was built as the gateway to the fair, which was held in Parc de la Ciutadella. At 98 feet high the arc is quite impressive and well worth going to see during your stay in Barcelona. After you visit the arc, walk 5 minutes to Parc de la Ciutadella. Ciutadella Park, which was opened in 1887, is Barcelona's oldest and biggest park. It is also one of the prettiest and the perfect place to enjoy a picnic on a nice day!
Stay at Hotel Ohla
Hotel Ohla is one of my favorite hotels in the world! If you need somewhere to stay in Barcelona, stay here! Hotel Ohla is a 5 star hotel centrally located in Barcelona's Gothic Quarter, which means it is walking distance from Las Ramblas, the Plaça de Catalunya, the Passeig de Gracia, and the Barcelona Cathedral. The hotel is in a beautiful neoclassical building that used to be a department store so it exudes old world charm. The interior of the hotel is very trendy and the rooms are large and quite comfortable. There is also a nice fitness center with a sauna, two restaurants, and two lounges located within the property. In my opinion the best part of Hotel Ohla is its rooftop pool! The views of Barcelona can't be beat and the cocktails are amazing!
Explore the Casa Batlló
One of the most unique things about Barcelona is the city's modernista architecture, especially the work of Antonio Gaudí. While many travel sights will tell you to visit the Gaudí Museum and Park Güell I want to recommend visiting my favorite of Gaudí's works, Casa Batlló. (If you have time visit all of these locations though!)
Casa Batlló is located in central Barcelona, and was designed by Gaudí in 1904 for the Batlló family. The entrance fee to the house starts around $25 USD but it is worth every penny to see Gaudí's work. Every single room is a piece of artwork and was unlike anything we had ever seen before. Make sure you ask for a headset for the tour so you know what you're seeing. They offer them in many languages.
Also, check out the roof. It's magnificent! Casa Batlló is open from 9am-9pm but I recommend going early so you can avoid the rush and get perfect photos. You can buy tickets in advance online if you want to skip the line outside.
Hike Montjuic Hill
Montjuic is a large hill that overlooks the Barcelona Harbor and used to play a big part in the defense of the city. Now, Montjuic is a popular place in Barcelona due to its many attractions. While you can take the funicular, or one of the cable cars to the top of Montjuic, we opted to hike up to the top. I use the word "hike" loosely because it wasn't very hard.
 To hike up to Montjuic you can use escalators that run from the Palau Nacional at Plaça Espanya up the hill, and then take a trail. It took us about an hour and a half to reach the top, but we stopped for photos. There is a lot to see on the way up! The views of Barcelona from the top of Montjuic are absolutely incredible, especially from the castle because you can see the Mediterranean Sea. Other attractions on Montjuic Hill are the Olympic Stadium, Botanical Garden and museums such as Fundació Joan Miró and Museu Nacional d'Art de Catalyuna. You can easily spend a full day here!
Relax on the beach and get drinks at the W!
You can't go all the way to Barcelona without taking a dip in the Mediterranean Sea! Luckily, there's a beach in Barcelona.  Barceloneta Beach is the perfect place to relax and spend the day. There are lifeguards, bathrooms, changing room, chairs for rent and even beach bars where you can grab a drink. In addition to this, there is also an area for beach volleyball and table tennis.
While there are many restaurants and bars around the beach, we recommend checking out the W Hotel for a cocktail! There is a really fun pool bar and the drinks are fantastic. To get to Barceloneta Beach take the yellow metro line and get off at the Barceloneta stop. Enjoy!
See Barcelona from a bird's eye view on the cable car!
Riding the Port Cable Car is definitely one of the scariest things we did in Barcelona, but it was also one of the most memorable! (I hate heights!!!) The cable car connects the port with Miramar, which is on Montjuic Hill, and gives riders a bird's eye view of Barcelona.
The cable car took two years to build and was completed in 1931. A ride on the cable car lasts about ten minutes and covers about 1/8 of a mile. The highest point of the ride is 351 feet tall and offers stunning views of Barcelona so have your cameras ready. A round trip ticket for the cable car is $16.50 Euro and a one-way ticket is $11 Euro. Check the website for hours as they change throughout the year, and be prepared for a line because only 20 people can ride in each car at a time. We suggest going early. Oh, and one more tip- the car doesn't run if it's windy! You'll see why if you go. We were rocking a little bit on our journey. It was worth it for the memories though, so face your fears!
Have fun in Barcelona!
XOXO,
Lindsay & Christopher