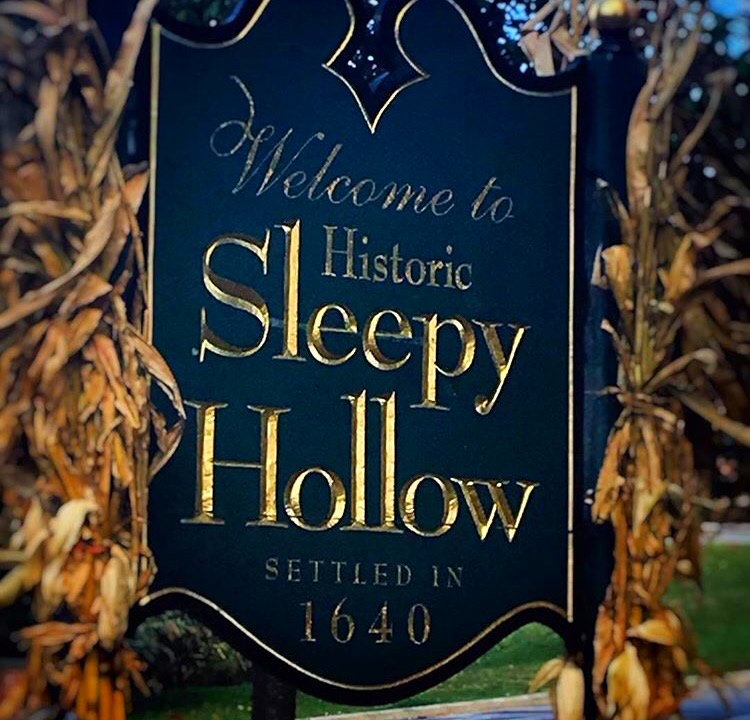 Sleepy Hollow Cemetery by Lantern!
Here's a Halloween Idea for my East Coast friends, or those visiting, why not check out Sleep Hollow, NY? Sleepy Hollow's claim to fame may be the headless horseman but it's so much more than that! Aside from being a cute town, Sleepy Hollow is full of history.
One of the town's most notable sites is the Sleepy Hollow Cemetery, which offers lantern tours nightly. (Fun fact- It's also where the Ramones shot their "Pet Cemetery" video in the 1980's, and where the film "House of Dark Shadows" was filmed!) Being a lover of all things scary, I forced Chris to drive me to Sleepy Hollow on our recent trip back east. Today's post is about what happened on our lantern tour!
The tour starts at the grave of George Merritt, the famous Builder of the Lyndhurst Mansion, which I can't wait to check out! Here, you'll learn that the Sleepy Hollow Cemetery was built in 1849 during the Victorian era. It's crazy to think 45,000 people are buried in the cemetery. There are only 20,000 residents in Sleepy Hollow now, which means there are double the dead to living people in Sleepy Hollow.
The next site on the tour is the grave of Edwin Lister. Edwin Lister owned a button factory by the Decanter River. He was known for making buttons out of animal bones and using the dust to make fertilizer. The marks on his grave are very interesting. You'll see a clamshell, which is an ancient symbol of everlasting life, and if you look at the sarcophagus closely, you'll see claw feet, which represent wealth. On Edwin's grave you'll also find a woman who is in mourning. Apparently, Edwin was so great he needed a beautiful women to mourn his death for eternity….You'll actually see women in morning on graves a few times in the cemetery. (TREND ALERT!)
One of the most interesting things about the Lister grave is that it is still in perfect condition since it is made of granite. If you look across the way of the Lister grave you'll see a grave made of marble that hasn't lasted as well. (Creepy pic right?)
 Marble Statue on a grave in Sleepy Hollow Cemetery
The next part of the tour takes you through a few different mausoleums. The first one is the Gurnee Family Mausoleum. Walter S. Gurnee was the Mayor of Chicago and his mausoleum reflects the family's wealth. Next, you'll visit the Walsh Vault and a few others. The ivy you see on these vaults is a symbol of everlasting life. I particularly like the Rhinelander vault because of its story. The happily married couple is buried in the vault along with Mrs. Rhinelander's wedding dress. So romantic!
Get excited because the tour is now taking you to the main event, and why Sleepy Hollow is so famous! You get to visit the grave of Washington Irving, the author of, "The Legend of Sleepy Hollow." (Tip from our guide- Go to Sunny Side! It was Irving's home.) I didn't know a lot about Irving prior to the tour, but after learning about him he seems fascinating! Washington was one of eleven kids in his family but only eight of the kids made it to adulthood. He was born on April 3 1783, in Manhattan during the yellow fever outbreak so his parents sent him to the country, aka Sleepy Hollow to protect him. Washington wasn't a great student in school and had a D average. He did somehow get into law school even though he barely passed the bar exam. As a lawyer Washington only had one client, and if I'm being honest it sounds like he did a poor job defending him. That's because Irving didn't want to be a lawyer, he wanted to be a writer. Washington eventually followed his passion and founded the "Salmagundi" papers, which were like "The Onion" of the time. The paper was well known for making fun of people in NYC.
 The Headless Horseman Bridge (I made it black and white because it looks scarier!)
When Irving wasn't writing he was traveling around Europe and hanging out with people like Charles Dickens and Lord Byron. (I'm so jealous!) I don't think many people know this but Irving was the first American to have credibility as an author and he helped make copyright laws stronger!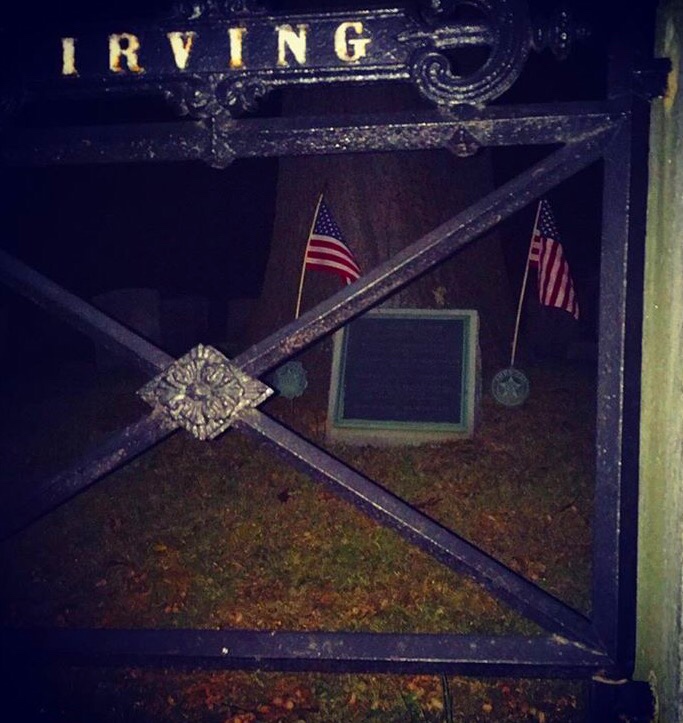 Washington Irving's Grave
If you look closely at Irving's grave you'll see flags on the side of his grave, which symbolize he is a veteran. Irving served during the War of 1812, which is where he met a soldier named Ichabod Crane. It's said that Ichabod wasn't the biggest fan of "The Legend of Sleepy Hollow," which completely makes sense if you've read the book. (I mean, who wants to be known as a sissy?) Irving had a very fascinating life, which included being an Ambassador to Spain. He was so loved by the Spanish people that April 3 is actually Irving day in Barcelona. Irving did many wonderful things during his life including founding the Sleepy Hollow cemetery. Most of Irving's family is buried here, including Ebenezer Irving. Fun fact, it is said Charles Dickens based Ebenezer Scrooge off of Ebenezer Irving. Gives you an idea of how he was as a person…
In the next part of the cemetery you are taken to the receiving vault where the cemetery stores bodies during the winter. They actually let you go inside. It's a little eerie. Chris refused to go in!
The next stop on the tour takes you to my favorite plot because it has an incredible view of Manhattan. In the past it was known as Battle Hill because soldiers used to camp here and watch for British soldiers.
Now, General Daniel Delavan is buried here. The burial site is quite pricey and cost $50,000 to buy in 1870. That's a million dollars now! At this grave make sure to look for the Angels of Resurrection, Charity and Love. The sculptures are so beautiful!
After the Delevan site the tour takes you to the grave of Owen Jones, who owned one of the first high end department store in the city. When Owen died he left his kids his business, and his wife his land and the rest of his empire. His kids ending up ruining his business and then sued their mother for her money. They didn't win and the Mother outlived both of her sons. In the end the kids never got their father's money but, their mother did allow them to all still be buried together. What a nice lady!
For the final part of the tour you visit one of NYC's most beloved men, Andrew Carnegie's grave. (Yes, THE Andrew Carnegie! As in Carnegie Hall.) Andrew was born in Scotland and worked as a bobbin boy in a factory before there were child labor laws. As a child, Andrew worked from dawn to dusk for $1 dollar a week so he really understood the value of a dollar. As an adult, Andrew made his money in the steel business and ended up being the second wealthiest man in American History, behind John D. Rockefeller. (Andrew was worth $309 Billion!)
 Carnegie was an amazing man and believed "to die wealthy is to die a disgrace." In 1911, he took $450 million and started the Andrew Carnegie Foundation, which is still going strong. Carnegie died in 1919 and is buried with his wife Louise. His grave is particularly interesting because people leave coins on it in hope his wealth will rub off on them. Our tour guide even said that one person left a note thanking his foundation. Overall, the Carnegie grave is a very modest spot, which says a lot about him. Carnegie also has his staff buried with his family. What a great guy!
The last part of the tour takes you to the northern section of sleepy hollow, which is the richest section of the cemetery. The largest mausoleum in the cemetery belongs to William Rockefeller, the younger brother of John D. Rockefeller. (John's grave is located in Cleveland.)
The mausoleum is absolutely beautiful and was designed by Gaston Lachaise, who is the same artist that designed Rockefeller Center.  There are 5 people buried in the mausoleum and William's children and grandchildren are buried in the yard around it.
Across from the Rockefeller site you'll see a rather ostentatious mausoleum that belongs to John Archbold. John Archbold started off as competitor to John Rockefeller and then ended up working for him. Archbold was said to love money and flaunt his wealth so it's no surprise he hired Otto Heinigke, a famous stained glass designer, to work on his mausoleum. If you look closely at the site you'll see a lily, which is the symbol of purity and a Peacock, which is the Persian symbol of everlasting life. Make sure to peak through the window. It is fancy in there!
Overall, this tour is very educational and entertaining! Tours leave nightly from the cemetery at 7pm and costs $24.99USD. You can buy tickets here: https://www.showclix.com/events/8596
Have fun!!!  
XOXO, 
Lindsay & Christopher