The 12 Days of Travelmas!
It's December, which means the mad dash of Holiday shopping has begun! This year, why not consider giving your loved ones a gift that may inspire them to travel. Need some ideas? Here are 12 of my favorite travel inspired gifts this holiday season.
 My Diva Inspired Christmas Travel Tree! 
On the 1st Day of Travelmas my true love gave to me…
Gifts $50 and Under
1. Travel Stub Diary ($12)
This travel stub diary makes the perfect gift for anyone who is sentimental and loves to travel. (It's also the way I got my husband to stop begging me to make him a scrapbook!) With this travel diary you can store postcards, tickets, brochures, snapshots and much more within the clear sleeves. There's even room in the margins to jot down notes. The pages are acid free so your memories can last a lifetime! At only $12 this item is a great stocking stuffer! To buy this diary head over to www.uncommongoods.com.
2. Scratch Off World Map ($24-$34)
The second I saw these maps on urbanoutfitters.com I had to buy two. (One for Chris, and of course one for myself!) This map is exactly what it sounds like, a scratch off map that shows off all of the places you've been! It's fun to track your travels and see how much left of the world you have to explore. 40 countries and counting for me!
3. Kikkerland Zip & Flip Bear Travel Pillow ($25)
I won't lie, I was really bummed out when I found out these adorable Kikkerland neck pillows were mainly for kids! This zip and flip travel pillow transforms from an adorable teddy bear into a u-shaped neck pillow in seconds. It is a great item to have for kids traveling on planes or in cars. Kikkerland makes a whale pillow too and these can be purchased at Bed Bath & Beyond or Amazon.com. Check them out! (I want the whale!)
4. Embrishop Laptop Cover ($47+)
Almost every traveler carries a laptop with them these days, so every traveler needs a laptop case, because let's face it; your items get banged up when you travel. Embrishop has designed the most beautiful, sparkly, laptop cases to protect your Macbook. I am not exaggerating when I say, this is my favorite gift I have ever bought for myself, and it has kept my laptop safe for the last year. Embrishop also makes phone and Ipad cases so check them out at www.embrishop.com Embrishop rocks!
5. Shake Beach Bag ($49.99)
After meeting a girl on vacation with this Shake Sifting Tote I am currently on the waiting list for one of my own! Let's be real, there is nothing more annoying about going to the beach than the fact that afterwards your car, and pretty much everything else you touch, gets covered in sand! With this Shake Sifting Tote that won't happen. The bottom of this tote is mesh so all of the sand falls through it and is held by the flap below. At the end of your beach day simply undo the reversible flap and shake the sand out. You can buy this awesome bag on www.quirky.com.
Gifts $100 & Under
Gifts $100 and Under
6. Sseko Interchangeable T-Strap Sandals ($55.99+ Straps at $14.99+/each)
I am a huge fan of Sseko not only for their merchandise, but because this company empowers women in Uganda by allowing them to work to continue to pay for their education. I like the look of these leather sandals, but LOVE the fact they have interchangeable straps even more! Just think one pair of sandals to pack in your bag and you can get many different looks. These sandals save space and keep you looking chic. To help a young women go to college, and buy these adorable sandals, go to www.ssekodesigns.com.
Gifts $150 & Under
7. Born + Made Hat ($110+)
If you read my blog you have probably seen this picture because I am obsessed with Born + Made. I found this company on Instagram one day and they make so many wonderful items! My favorite is this hat because it is completely customizable. You can choose the color of your hat, and the writing on it, which makes this hat great for traveling or as a wedding gift! The hats start at $70+ depending on the style you like. Check out www.bybornandmade.com for more information.
8. QBracelet ($125)
Sometimes when you're traveling you don't want to carry around a big bag with a phone charger so why not consider a QBracelet? The QBracelet looks like a regular bracelet; weighs less than a typical watch and can charge your phone up to 50%. If you know someone on the move a lot, this is a great gift idea, and can be purchased at Nordstrom.
9. Prynt Phone Case ($149.99)
Have you ever taken a photo and thought, "I need this on my wall RIGHT NOW?" I have. Well, problem solved. The Prynt Phone Case allows you to print photos directly from your phone. Simply put the case on, take a picture and you can have a printed photo in seconds. You can buy this case at Target or on Amazon.
Gitst $200 & Under
10. Kate Spade Everpurse ($198+)
Never run out of battery power while traveling again with Kate Spade's chic Everpurse. This bag charges your IPhone wire-free and a fully charged Everpurse should last for about 2 days for the average user. With a variety of styles and colors this purse is the perfect Holiday gift! To purchase one go to www.katespade.com.
11. Adjustable High Heels from Mime et Moi ($185)
There is nothing worse when packing than trying to fit multiple pairs of heels into your luggage! (Especially when you're trying to pack for 2 weeks in Europe in a carry-on! Anyone else ever try to do that?) Don't worry anymore though because the geniuses at Mime et Moi have got us covered! Each pair of Mime et Moi shoes comes with 5 different heels that you can simply click into place. These shoes really do make dressing for day to night easy. Head over to www.mimemoi.com for more information.
Gifts $500 and Under
12. Bluesmart Luggage ($449+)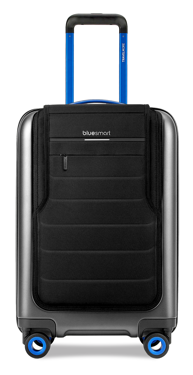 As a frequent traveler this is the gift I have been coveting all year! That is because Bluesmart Luggage can do it all. Bluesmart luggage not only weighs itself so you don't have to worry about paying overage on your bag fees, but it also can charge your devices up to 6 times. In addition to these features you can lock this luggage remotely from your IPhone and locate where your luggage is anywhere in the world. No more lost bags! For more information go to www.bluesmart.com.
Have fun shopping! I'll leave you with a cute photo of my dog.  
Happy Holidays! 
XOXO, 
Lindsay