Vacation in Visby!
Visby, on the island of Gotland in Sweden, is one of my new favorite vacation spots after stumbling upon the town last summer. We found Visby because every July we go to one big European beach party, and last year we saw Kallis, in Visby, was ranked the #1 beach party in Europe. After doing some research we decided we had to checkout Visby and the island of Gotland! Today's post will cover why you may want to visit this medieval town as well!
 Visby City Wall
Where is Visby?
I bet I know what you're thinking, where is Visby? If I'm being completely honest, I didn't know at first either. Visby is the capitol of Gotland, which is a Swedish island in the Baltic Sea. It's basically right between Sweden and Latvia if you want to try to find it on a map. The population of Visby is about 23,000 people, and the population of the entire island is about 57,200 people.
The Visby City Wall
How do you get to Visby?
The fastest way is to take a 45-minute flight from Stockholm to the island. Scandinavian Airlines, (SAS), provides flights to Visby. The cheapest way to get to Visby is to take the ferry. The ferry departs from Nynäshamn, Sweden, which is the southern most part of Stockholm and takes about 3 hours and 20 minutes to get to Visby. If you are coming from Central Stockholm you can get to Nynäshamn in about 1 hour via train. The ferry costs between $30-$50USD/person for a one-way ticket. Once on the ferry it is very comfortable and relaxing. There are restaurants, a few shops, and plenty of chargers for your devices! Check out: http://www.destinationgotland.se/en/ for tickets.
Why should I go to Gotland?
Gotland is a beautiful, relaxing island that has 130 nature reserves, botanical gardens, 497 miles of coastline and the well preserved medieval city, Visby. In addition to all of its natural beauty Gotland is the host to many weeklong events. The Political Week in Almedalen that takes place in July is one of the world's largest democratic venues for politicians. More than 3,000 events happen during the political week and everyone is welcome because freedom of speech rules! During Medieval Week in August, 40,000 people go to Visby and dress in medieval clothing to watch tournaments, fire shows, lectures, concerts and much more! It's like the entire island goes back in time.  Sweden is famous for it's crime novelists so; Crimetime Week is a fun week for fans of the genre on the island. Week 29, the party week, is when the youth of Stockholm head to Visby to party! If you want a quiet week in Visby don't go during Week 29!
What to do in Visby?
There's a lot to do in Visby, but here are some suggestions!
Explore the Visby City Wall
The Visby City Wall is exactly what it sounds like; it's a defensive wall that surrounds the city of Visby. The wall is famous for being the best-preserved wall in Scandinavia and it is quite impressive to see. The wall was built in the 13th and 14th centuries and originally had 29 towers. 27 of these towers can still be seen today! The entire wall is a little over 2-miles long and it is definitely worth the walk to explore. Make sure you don't miss the Maiden Tower where it is said a maiden who betrayed the city was walled up alive, or the Love Gate, where 1,000's of kisses have been shared over the years.
Swim in the Baltic Sea
How often do you get to swim in the Baltic Sea? Even in July, the Baltic Sea temperatures only reach 63-64 degrees Fahrenheit, but you still have to jump in at least once during your stay in Visby. There are many beaches and swimming platforms to access the sea, and the water is really clean! After your swim, clean up and head back to a beach for sunset. In the summers these don't happen until after 9pm, but they are quite beautiful! You will see many locals having picnics by the sea so you may as well do the same!
Stroll the streets of Visby & hang out in the Stora Torget!
Visby is sometimes called, "The City of Roses," and it's easy to see why! In the summertime roses cover cottages and the streets, which makes walking around quite beautiful. To get your bearings in the city, take a stroll through its colorful streets, admire the many ruins, and relax in the park, or botanical gardens.
Also, make sure to visit the center of town, the Stora Torget, and dine at one of the many cafes. Try a saffranspannkaka, which is a pancake smothered with red berries and dollops of cream. It's delicious and a specialty in Gotland!  On the weekends there is a market in Stora Torget where you can buy local products and jewelry. I got the cutest rose ring!
Visit St. Mary's Cathedral
St. Mary's Cathedral is one of Visby's oldest churches that is still in use, and probably the most visited site in Gotland.  German Merchants built the church in 1255. The church is open to the public Monday-Friday from 8am-4pm but closed from 12pm-1pm for lunch. It is quite beautiful inside!
Party at Kallis!
The main reason we booked our trip to Visby was to go to Kallis and it didn't disappoint! Kallis was voted the, "Best Beach Club in Europe," for its crazy parties during Week 29. Week 29, also called Stockholm Week, is when young party people from Stockholm come to Gotland for a week of fun! The parties are wild! I mean just look at the pictures… If you come to Kallis during another week the atmosphere is much more relaxed. Kallis serves food as well as cocktails!
Note: If you want a fun nightclub to hang out in the town square, check out Gutekallaren! It's a multi-level club with many dance floors and different types of music.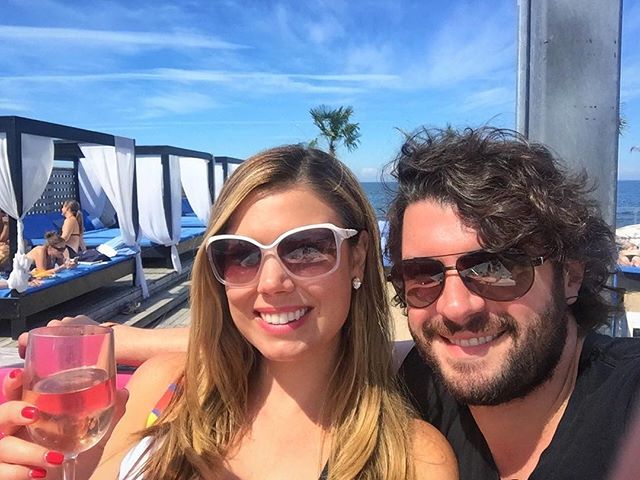 Admire the beauty of Saint Katarina's Churchruin
 Saint Katarina's Church is a beautiful ruin near the Stora Torget. The church was finished in 1250 in what was considered the center of town at the time. Now, there is a market in the square by the church, and during the winter months an artificial ice-skating rink within its stonewalls. To enter the church is free so it is definitely worth exploring!
Visit the Bunge Museum
The Bunge Museum is in the Northern part of Gotland and about a 45-minute drive from Visby. It is definitely worth the drive to see the traditional farming culture of Gotland if you have a car! The Bunge Museum features a traditional farming village enclosed by a wooden fence. In the village you will see rune stones, and wind and watermills. Across the street from the Bunge Museum is a cafe with a lovely outdoor area where you can relax.
Explore Tingstad Fastings
Tingstade Fortress started to be built in 1904, and was completed in 1914, during the first World War. The fortress became the center of Gotland's military stores and defense. The fortress continued to be used in WWII and then into the 1970's.
Since that time, it has been turned into a museum and can be visited during the summer months. When visiting the fortress you have the opportunity to go underground and explore the halls, officer's quarters, infirmary and kitchen.
While in use, the Fortress could have been defended for up to 30 days while waiting for reinforcements. It's quite impressive to tour Tingstade and imagine what life was like for the soldiers here! If you plan to tour Tingstade make sure to call in advance for operating hours and tour times and these change frequently. It is definitely worth checking out!
Where to stay?
While there are many wonderful hotels in Visby, I highly recommend staying at the Tott Hotel. The Tott Hotel is only about a 15-minute walk to town and provides wonderful accommodations, a nice pool, and beautiful views of the Baltic Sea. Breakfast is included with each room and the hotel also has a nice fitness center. You can book a room or bungalow in the hotel. The Tott Hotel is the perfect place to unwind!
Where to eat?
There are so many wonderful restaurants in Visby! Here are some of our favorites…
Glasscafeat is a small cafe in the square that is wonderful for breakfast! The coffees, smoothies and pastries are delicious!
Supper is a South American restaurant that serves wonderful tapas style foods in a friendly environment! The outdoor patio is beautiful and feels as if you are dining in a friend's backyard. Try a mojito. So good.

Gute Grill is a restaurant right on the sea that has breathtaking views! The menu has everything from steak to seafood and consists of small dishes so order 2-3 per person.

 Kapitelhusgårdens is a medieval tavern in a 12th century building that serves various types of mead and other traditional dishes from the time period.
Be prepared to eat with your hands and use your table runner as a napkin.
The staff is in costume and treats you like you're living in back in time. It was a fun place for dinner and since Christopher is obsessed with, "Game of Thrones" a must for our trip!
Italienaren is a modern Italian restaurant that serves classic Italian dishes with their own twist. They have tasty pizzas, pastas, and salads! If you are a vegetarian this is a wonderful place to dine as the vegetarian dish I had was one of my favorite pasta dishes I have ever tasted!
Note: Most of these restaurants are only open during the summer months. Check their websites before you go for their hours.
We hope that you consider visiting Gotland and if you do that you try some of our suggestions! Let us know what you think on Instagram!
XOXO,
Lindsay & Christopher