Visit the locations in La La Land!
The Academy Awards are this weekend, so why not celebrate one of Hollywood's most talked about films, La La Land? La La Land has won 7 Golden Globes, 1 SAG Award, 8 Critics Choice Awards, and the Producers Guild Award for Best Picture. It is also nominated for 14 Academy Awards this weekend. We personally LOVE this film, and if you haven't seen it, we recommend going a theatre right now. Seriously, go now!
Aside from being a wonderful movie, La La Land is a wonderful homage to Los Angeles. While La La Land was filmed in over 60 locations in Los Angeles, today's post is going to talk about our favorite 15 locations in the movie. We'll leave out the interchange connecting the 105 freeways to the 110 because, really, who wants to sit in LA traffic?

SPOILER ALERT: WE HAVE TO SAY THIS ONE MORE TIME. THIS POST DOES HAVE SPOILERS FROM THE FILM IN IT. PROCEED WITH CAUTION.
The Warner Bros Lot
One of the first places you see in the film is the fictional coffee shop Mia works in on the Warner Brothers lot. Warner Brothers is also seen in the film when Mia and Sebastian stroll by the sound stages, including stage 6 where many famous films such as, "Casablanca," were filmed. If you want to relive this part of the film get tickets for the Warner Bros Studio Tour. The tour is amazing! You get to visit the studio lot and see things such as the "Friends" set, and the Batmobile. Tickets start at $49 for SoCal residents.
Locations
Warner Bros Studios:
 4000 Warner Blvd, Burbank
Warner Bros Studio Tour: 
3400 West Riverside DriveBurbank, CA 91505
Lipton's Restaurant- Really the Smoke House Restaurant!
Lipton's Restaurant, where Sebastian works as a jazz pianist when he is he forced to play boring holiday music, is actually the Smokehouse Restaurant in Burbank, CA. (Although, the exterior of Lipton's is actually the "You are the Star" mural at Hollywood Blvd. & Wilcox Ave.) The Smokehouse Restaurant is right across the street from the Warner Bros. lot and a popular hangout for people who work at the studio.
Location: 4420 Lakeside Drive, Burbank, CA
Hermosa Pier
The Hermosa Pier makes an appearance in the film when Sebastian sings, "City of Stars." The Hermosa Pier also happens to be one of our favorite places in LA to watch the Sunset. Trust me you won't want to miss it!
Location:1 Pier Ave, Hermosa Beach, CA 90254
Lighthouse Café
Sebastian introduces Mia to jazz at the Lighthouse Café, which is actually a jazz club that has been opened since 1949. Stan Getz and Miles Davis even recorded albums here! The Lighthouse Café offers all kinds of music today. It is close to the pier so you can checkout these two spots on the same day.
Location: 30 Pier Avenue, Hermosa Beach
Jar
When Mia is having dinner with her boyfriend, and ditches him to go out with Sebastian, she is dining at the LA hotspot, Jar. Jar is well known for its delicious steaks and martinis, and sort of reminds us of a place that would be in Mad Men. Jar is a bit pricey, but it's delicious!
Location: 825 Beverly Blvd, Los Angeles, CA 90026
Rialto Theatre
Sebastian and Mia go to see "Rebel Without a Cause" at the historic Rialto Theatre, which was opened in 1925. Unfortunately, the theatre closed in 2007 but there are plans to try and reopen it. Fun fact, this theatre was also used in "Scream 2," and Michael Jackson's, "Thriller."
Location:1023 Fair Oaks Avenue, South Pasadena, CA 91030
Griffith Park Observatory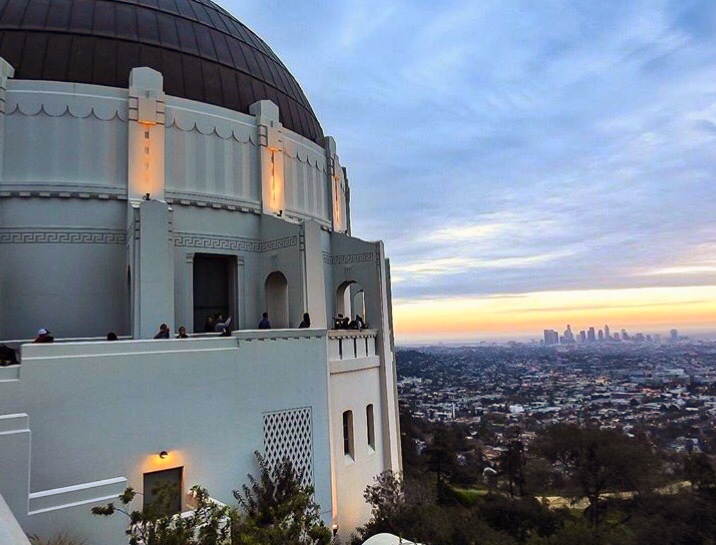 When Mia and Sebastian fall in love, they literally float through the Griffith Park Observatory. This observatory and planetarium is absolutely beautiful and offers stunning views of downtown Los Angeles. The Griffith Park Observatory was opened in 1935 and has also been featured in other films such as, "Rebel Without a Cause," and "Transformers." Admission to the Observatory is free but tickets to a show in the planetarium are $7 for an adult. It is the perfect place for a date night!
Location:2800 E Observatory Rd, Los Angeles, CA 90027
Mount Hollywood Drive
The most famous scene in La La Land takes place at Cathy's Corner, which is on Mt. Hollywood Drive. To get here, park where the Vermont Canyon Road Tunnel and Observatory Drive meet. Then stay to the left as you hike a little over two miles up Mt. Hollywood Drive to the crest. Once you are at the crest take the left fork and you will see an open clearing. At the top, admire the view and maybe dance a little as you sing, "A Lovely Night." Don't expect to see a bench or lamppost as these were provided by production. Fun fact: This six-minute song was done in a single take!
Location: Mt Hollywood Dr., Los Angeles, CA 90027
Colorado Street Bridge
The iconic Colorado Street Bridge is seen in the film when Mia and Sebastian go on a romantic scroll during the montage of their summer romance. Built in 1913, this historic bridge in Pasadena spans the Arroyo Seco and offers sweeping views of Pasadena. It's even more beautiful in person!
Location: 532 West Colorado, Pasadena, CA 91105
Angel's Flight
Angel's Flight is a funicular railway in the Bunker Hill part of downtown Los Angeles that was built in 1901.  It is also seen during the summer romance montage in the film. (Remember when they kiss on the train? SO cute!) Unfortunately, Angel's Flight stopped running in 2013. You can still walk by and visit the historic location.
Grand Central Market
On one of Sebastian and Mia's first dates they eat at Sarita's in Grand Central Market. This market, which was opened in 1917, is one of our favorite places in LA to get lunch. There are so many options. Try Eggslut! It's the best.
Location: 317 S Broadway, Los Angeles, CA 90013
Watts Tower
On another one of Mia and Sebastian's dates they visit Watt's Tower. I won't lie we had never been to Watts Tower before we watched La La Land. Watts Tower was built over 30 years ago by Sabato Rodia out of concrete and scrap metal. Watts Tower is a National Historic Monument.
Location: 1765 E 107th St, Los Angeles, CA 90002
El Rey
John Legend's performance, with The Messengers, was shot at the famous El Rey Theatre. The El Rey, which was opened in 1936, is still in use as a music venue today for artists in every genre. We personally love the El Rey because no matter where you stand you get a great view of the stage!
Location: 5515 Wilshire Blvd, Los Angeles, CA 90036
Chateau Marmont
When Mia finally makes it as a successful actress in La La Land she stays at one of LA's most famous hotels the Chateau Marmont. The Chateau Marmont was designed by architect William Douglas Lee and completed in 1929. Since then, it has become a favorite of celebs and locals alike. The Chateau is my favorite hotel in LA because it exudes old Hollywood charm. Even if you don't stay at the hotel, you can have brunch in the restaurant, or hit up Bar Marmont for a cocktail. This is a must see in LA!
Location: 8221 Sunset Blvd, West Hollywood, CA 90046
Seb's (Really The Blind Donkey)
SPOILER ALERT!!! (Seriously, don't read this paragraph if you haven't seen the movie!)
Seb's, the jazz club that Sebastian finally opens at the end of the film, is actually the interior of The Blind Donkey in Long Beach. The Blind Donkey is a cool little bar that's in a basement. It offers a great happy hour, nice whiskey selection, and you can play darts. If only Ryan Gosling actually worked here…
Location: 149 Linden Ave, Long Beach, California 90802
Have fun exploring La La Land and reliving one of my favorite films of the year! I'll leave you with one of my favorite quotes from the film.
"Here's to the ones who dream. Foolish as they may seem."
XOXO,
Lindsay & Christopher