When Pigs Swim! (In Exuma, Bahamas!)
Most people book a trip to the Bahamas because they want to bask in the sun, walk on the white sand and swim in the sapphire-blue water. You can definitely do all of these things in Exuma, but you can also be a part of something much more exciting…
You can visit the swimming pigs!!!!
Swimming with the pigs in Exuma has always been on my bucket list and last year for work I was lucky enough to get to finally check this wish off of my list. Today's post is going to tell you everything you need to know about visiting these adorable creatures! 
Where is Exuma and how do I visit the pigs?
The Exumas are located about 35 miles southeast of Nassau and are an archipelago of 365 cays and islands. The islands are located in three sections Great Exuma, Little Exuma and the Exuma Cays. Great Exuma and Little Exuma are very laid back, while the Exuma Cays are known as a playground for the rich and the famous.
Exuma is very easy to get to. You can fly directly from Miami on Delta, or American airlines, and arrive in Exuma in about 1 hour and ten minutes. You can also take a ferry from Nassau to reach the island.
Once you are in Exuma, the pigs live on the uninhabited island of Big Major Cay, also known as Pig Beach. You need a boat to reach Big Major Cay but multiple places in town offer excursions to the island. Your hotel should be able to recommend one. You can also rent your own boat if you don't want to deal with the crowds! It took us about an hour and a half to get to Big Major Cay from Great Exuma but the ride was beautiful along the way!
Why are the pigs here?
This is a commonly asked question that doesn't really have a definite answer. Some people say that the pigs were in a shipwreck, escaped, and swam their way to shore for safety. Other people say that a group of sailors left the pigs on the island with the intent of coming back to cook and eat them, but they never made it back.
Another local told us the real story is in the 90's a man was raising pigs at his home but his neighbor complained about their smell. Therefore, he decided to move the pigs to this uninhabited island that was only a short boat ride away from his house. He would come and get a pig for slaughter, as he needed them. Over time, people started seeing the pigs on the island and started feeding them. 
The pigs, loving the attention, started to swim towards boats to be fed. In the end tourists fell in love with them and Pig Beach was born! Now, there are around 20 pigs and piglets on the island. 
What else should I know?
Well, a few things.
1. These pigs can be aggressive. I personally wouldn't try to take a selfie with them because they may mistake your ear for a piece of food! They have teeth you guys!
2. The pigs love to eat but feed them natural foods like lettuce or produce!
3. If you want the pigs to leave you alone cross your arms over your chest in the form of an ex. They seem to understand this means you don't have any more food.
4. Don't try to ride the pigs! This scares them and they are living creatures. Also, don't tease them or throw rocks at them to get them away.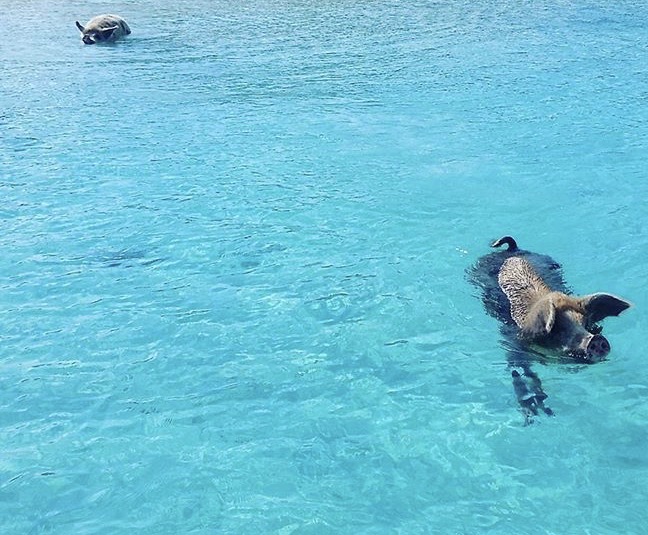 5. Know that a mama pig is going to protect her baby!
6. Just because these pigs swim doesn't mean they are aren't piggish. They poop in the water so keep your mouth closed when you're swimming. No one wants to drink pig poop!
What else can I do in Exuma?
Exuma has everything you could want on an island. There are beaches for swimming, lying out and relaxing. Fishing, snorkeling, and scuba diving are also very popular in the beautiful waters of Exuma.
One of my favorite things I did in Exuma was take a Sea Plane ride to see the island from the sky. The view was stunning!!! 
I hope you all get the opportunity to visit the beautiful island of Exuma and swim with these adorable pigs! Make sure to tag me in your Instagram photos if you go! I'll leave you with a video of our Sea Plane taking off!
XOXO,
Lindsay
XOXO, 
Lindsay